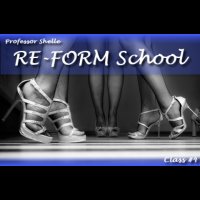 OFFICIAL SYNOPSIS
The 4th class of Shelle's ReForm School for Obedient Boys...

Session: 67 minutes

Welcome, My puppy, My slave, I'm so happy to have you back here at Shelle's ReForm School, ready to learn how to be a better submissive, obedient and subservient subject for Me, Professor Shelle, your Domina and Owner. As My property you live to serve Me, dedicating your life to please and support Me in ways that bring you pleasure and nurture O/our special relationship.

In this lesson W/we will explore the truth about what it means to be a slave that serves Me, the many characteristics that define your devotion, loyalty and love for Me every moment of every day. you will identify with one or more of these attributes, be it as My hypno-lover, chastity slave, stroker slave, sissy slave, fetish slave and even My money slave. But, My student, as a unique individual there are many paths of submission to Your Domina, the key to your submission is knowing My expectations for you and striving to meet and exceed them. Only through your commitment to Me can W/we grow O/our loving and caring relationship into one of mutual respect and admiration.

As a bonus, I have a guest speaker, the indomitable Lady Helena, a dominatrix with a flare for physical play and pushing limits. During the lesson Lady Helena will demonstrate the many virtues of Her style of domination giving practical examples of how this positively strengthens your desires to submit, obey and serve your Owner. Remember to bring your butt plug, rubber bands, nipple clamps and/or clothes pins to class (if you have them) otherwise you may be fined for your disobedience.

My puppy, be on time for this lesson in self assessment, and attached with this session you will find your assignment that is to be completed after class. Remember, O/our commitment to this journey is very REAL and I want you to be the very best slave you can be for Me. Now, get ready and prepare to submit more of yourself to My authority and control of you...
PERSONAL NOTE (only visible to you)
You must
Log in / Sign up