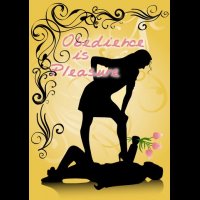 OFFICIAL SYNOPSIS
Level: Hard
Length: 46 minutes
Category: Brainwash-Mind Control

Re-make of the original version...only much STRONGER and IMPROVED...

A POWERFUL lesson in OBEDIENCE.
MY pet you already know that OBEDIENCE IS PLEASURE.  It's all too familiar but so much more powerful now.  I easily take your mind as I gently stroke you with My soft sexy words.  Drawing you into My hypnotic tale, to a place that pulls you even deeper into your most submissive place.  A place of sexy surrender...A place of complete OBEDIENCE to ME!

OBEY and LISTEN NOW!

Now be very careful with this file because I have used 2 binaural beats.......The second beat is new and is VERY powerful.......it is called "Descending" and it is designed to do exactly that.....making a subject drop and descend into deep MINDLESS trance.
PERSONAL NOTE (only visible to you)
You must
Log in / Sign up