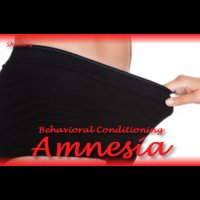 OFFICIAL SYNOPSIS
SEXY to FORGET...

Length: 28 minutes

My puppy, your Domina is back with more Behavioral Conditioning to help Me exploit and train your suggestible and deeply conditioned mind. As always this series of sessions is carefully designed to demonstrate to your subconscious mind how much CONTROL and POWER I have over the submissive you. This is not a mere party trick where I exploit your suggestibility while in trance, this is far more substantive and will impact you in the waking REAL world. In fact the nature of these sessions is they become more potent with every listen furthering My domination and control of your obedience and arousal. My CONTROL is now felt at your core. Soft simple mind and body control....feels so sexy to lose all self control and FORGET!

In this session W/we are going to focus on hypnotically induced amnesia. The ability to control a subject's memory recall is often a good indicator of how good and receptive the listener is to suggestions, the skill of the hypnotist and how much the listener trusts the hypnotist. Amnesia is a powerful tool for your Domina since it helps Me to eliminate your ability to consciously resist your conditioning. This becomes more important as My control pervades into everyday life and allows Me to seamlessly integrate My control and authority into your day to day behavior.

Be clear, My puppy, this is very REAL mind conditioning and this session will demonstrate in a simple and FUN way just how much influence I have over you and how much your subconscious mind accepts and craves this ever INCREASING control. Consciously you will be unaware...It's OK...I want you to feel My control.

So, be My good boy and show Me how much you want to be Mine by listening to this session and giving yourself more completely to your Domina Shelle. you know it makes sense and it's what you really need...

NOTE: Just remember you will FORGET...yes, you will obey, and simply forget...SEXY to FORGET.

28 minutes of sweet MIND control. Binaural effects, and JUST FORGET. AMNESIA.
PERSONAL NOTE (only visible to you)
You must
Log in / Sign up