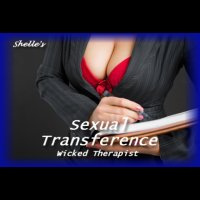 OFFICIAL SYNOPSIS
Erotic attraction...extreme dependence. Trapped in My will.

Length: 40 minutes
Category: Brainwashing-Mind Control
Level: EXTREME

In a therapy context, transference refers to redirection of a patient's feelings for another person to the therapist. Transference is often manifested as an erotic attraction towards a therapist, but can be seen in many other forms such as extreme dependence...Can you imagine being completely dependant on your devious devilish Domina (therapist). Trapped in My will.

Just wait until you see what I have in store for you. I know that you trust My sweet innocent voice. Isn't it funny, you just never see what is about to happen to you. It won't matter, it will be too late, you'll be too deep to stop.

But, My sweet, you will listen...because I want you to listen. For the rest you'll just have to wait.

BE SURE TO LISTEN TO WICKED THERAPIST again before listening to this session.
PERSONAL NOTE (only visible to you)
You must
Log in / Sign up