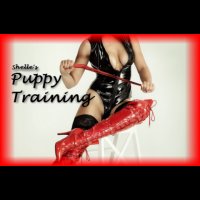 OFFICIAL SYNOPSIS
This file will leave you HARD, HORNY and completely My puppy.

Length: 27 minutes
Category: Enslavement-Interactive
Level: Playful and Hypnotic

I bet you are so excited to spend some playtime with your Owner. Making you into My perfect puppy slave excites Me. Imagine living as a mindless lil puppy always at My feet naked, collared and helpless to My whims. your only purpose and focus in life is seeking to please and pleasure your sexy Owner/ Domina. Can you feel the craving to lick My sexy toes and feet in addition to a few other areas of My tight hot body when you are a really good boy.

Let My powerful hypnotic words and voice take you deep into My world as W/we start our first puppy training session. Listen as your Domina provides you some basic training on what your Owner expects of Her enslaved puppy.

This puppy training session is foundational and will implant a post hypnotic trigger used in future files, and as such is very important. If you are looking to fully experience becoming My puppy take a trip to your local pet store and acquire a few supplies (e.g. puppy collar, leash, puppy tag [refer to file], water bowl, etc.). These items will be used at one point in your future and present. ~~~GIGGLES~~~

Can you imagine drinking and eating from your puppy bowl? Or having your Domina take you for walks, leashed, naked and mindless as you follow your Owner. Well, My horny lil puppy, get naked, put on your collar...and accept your place at My feet, by listening to My slave Puppy Training 101.
PERSONAL NOTE (only visible to you)
You must
Log in / Sign up