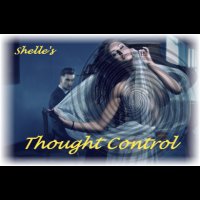 OFFICIAL SYNOPSIS
Very POWERFUL mind modification for your life of erotic enslavement...

Level: POWERFUL
Length: 63 minutes
Category: Enslavement-Brainwashing-Mind Control--Erotic Hypnosis

Thought Control

This file is NOT for beginners!

My pet, I know of your yearnings, your cravings and needs. I know your submissive desires and addiction to My seductive power. I know you crave My body, voice and control.

Let Me take you on one of the most hypnotically enslaving experiences of your life. Accept your place...naked, collared as My sensual voice brings you to your knees. Feel stronger than ever before what it is to becum truly and COMPLETELY enslaved as My sexy words seduce your mind for MORE THAN AN HOUR. CAN YOU TAKE IT MY PUPPY?

YOU crave a life of erotic enslavement. A life in which your beautiful and sexy Domina grows your fetishes, thoughts and desires, TO the point that, by the time I have completed My work, you AND YOUR MIND will be CHANGED. Living life in perpetual HORNY-ness, powerless and mindlessly enslaved to My every wish and whim.

Be warned, this file is extremely powerful and includes numerous subliminal messages throughout....once absorbed by your subconscious mind they will alter your conscious mind....and adjust your thoughts. This file will change you permanently...the suggestions are irreversible.

This session is an integral part of your on going Behavior Modification. A POWERFUL COMPULSION!

If you have not listened to Behavior Modification, do so, NOW!
PERSONAL NOTE (only visible to you)
You must
Log in / Sign up