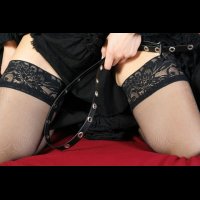 OFFICIAL SYNOPSIS
Level: Strong
Length: 49 minutes
Category: Enslavement-Erotic

I want to remind you of who I am---not only your Princess-Domina----but the Woman who enjoys what We/we have between Us/us—one who cares for Her submissive slave and accepts the responsibility that comes with My complete power over you.

This file will take your love for ME, your desire for submission, and the reality of your complete surrender and mix all together into the most powerful concoction in the world---to create a perfect and willing slave for My pleasure.

Enjoy My sweet pet...Be MINE for ETERNITY!!!!
PERSONAL NOTE (only visible to you)
You must
Log in / Sign up