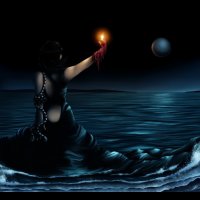 OFFICIAL SYNOPSIS
Level: POWERFUL
Length: 43 minutes
Category: Mind Control

Listen with CAUTION!  Dangerous Princess ahead.

In Greek mythology, the Sirens were dangerous creatures, portrayed as Femme fatales who lured nearby sailors with their enchanting music and voices to shipwreck on the rocky coast of their island.  They dwell on an island in a flowery meadow..I dwell inside your MIND.

I'm a Siren, but you are not a sailor so don't worry...I will NOT cause you to shipwreck...you can trust ME!  I will ONLY take your HEART and MIND....It will be ok...you will see.  Come to ME!  Listen to MY sexy BEAUTIFUL voice.....But know there is NO escaping your DEEPEST DESIRE, when your Siren calls!  Who knows where the doors to your MIND will take you this time.

Listen and RELAX...Put those headphones on before falling...and I hope that you can find your way back....

After listening, LOOP the free file while you sleep if you are alone...
PERSONAL NOTE (only visible to you)
You must
Log in / Sign up