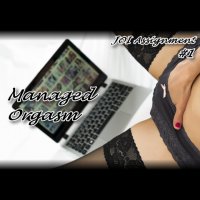 OFFICIAL SYNOPSIS
Managed Orgasm - Jerk-Off Instruction (JOI) Assignment #1

Length: 9 minutes
Category: Assignments-Enslavement

***This assignment is NOT FOR THOSE who are doing the LOCKDOWN. you have it already!

Are you ready for a little c*ck stroking INSTRUCTION (JOI), I'm the perfect INSTRUCTOR, don't you think...This assignment is very sexy...and you will unzip your pants and stroke your hard horny c*ck for Me. you will be instructed on exactly what you need to do. you already know what a HYPNO TEASE your Domina Shelle is. So, get ready for complete INSTRUCTIONS...

This is what you want, you need Me to manage your c*ck...you want me to manage so many things for you. This is only the beginning of My new MANAGEMENT Program.

Feel the pleasure of OBEDIENCE and accept My assignment NOW!

***Three very sexy pictures INCLUDED, for your pleasure.
PERSONAL NOTE (only visible to you)
You must
Log in / Sign up