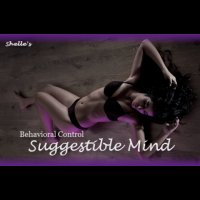 OFFICIAL SYNOPSIS
My words become like sex to your mind ...

Session: 28+ minutes

Let Me tell you a secret, when your c*ck is hard, W/we are so close, closer than you can imagine...My warm sexy voice in your ear...as your subconscious mind sleeps, that's when I slip My words into your brain. My puppy, your hard c*ck is just one of the distractions that I use to trick your conscious mind to not pay attention...this is when your subconscious mind is most vulnerable. This is the perfect time to push My subliminal messages deeper and deeper into you, making it impossible to STOP. Don't forget, this is what I do to you...I am the EXPERT in this field. No one compares to your Domina Shelle.

My words become like sex to your mind, causing lasting effects.

My behavioral conditioning is exactly what you need now...My post hypnotic suggestions will stick to your brain...

This session is your COMPULSION.

Listen with your headphones on. This session is AMAZING.
PERSONAL NOTE (only visible to you)
You must
Log in / Sign up