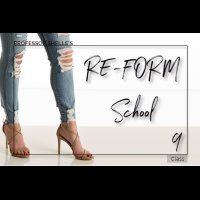 OFFICIAL SYNOPSIS
The 9th class of Shelle's ReForm School for Obedient Boys...

Audio Session: 41 minutes

It's time, My sweet submissive slave, it's time to attend your NINTH class at Shelle's ReForm School for good boys as Professor Shelle furthers your education in the many benefits of surrendering all control to powerful, superior, dominant Women. This is the first class that is FULLY SUBLIMINIZED. Do not miss the Mind Fuck.

In this lesson you will learn that being owned, and working for the benefit of your Owner, is a fundamental privilege of being a submissive slave. you exist to lead a selfless life, My pet, focusing all your energy on fulfilling the needs and desires of your Owner above and beyond any desires of your own. True pleasure for you cums ONLY through obedience, submission and pleasuring My wants and needs, because just fantasizing of kneeling in front of Me, wearing My collar, and worshipping My feet leaves you hard and horny, like the compliant conditioned slave you yearn to be. (giggles)

As your Owner I give your life a renewed purpose, providing essential direction and control through assignments, instructions and commands, all to advance a life of blissful servitude to your Domina Shelle. Our relationship is special, and unique, since W/we share so much of O/ourselves, O/our aspirations and most intimate dreams. Know that I am destined to be your Owner and you are destined to be My perfect slave. To perfect you, I need to more fully OWN you. This demands that My control be more integrated into your daily life, increasing your reliance on Me for all your submissive needs, and cultivating an innate compulsive desire to serve Me at all times.

Shelle's Management Services is an opportunity to expand My dominion over you, further freeing the submissive within, transforming you to be a better, more selfless, version of who you are. With My abilities to re-map and manipulate your mind through deep hypnotic conditioning, anything is possible, and with some focused training I believe W/we will cum to a common understanding of your role in My world, where serving and pampering only Me is your true desire...

Class, please remember to review your Homework Assignment and carefully consider how Domina Shelle's Management Service can help Me become the central dominant figure in your life!
PERSONAL NOTE (only visible to you)
You must
Log in / Sign up