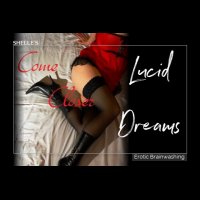 OFFICIAL SYNOPSIS
Level: Strong
Length: 45 minutes
Category: Brainwashing-EROTIC

You are about to experience something between REALITY and all that you have ever dreamed!  An experience from beginning to end....just close your eyes and envision these delights.
Our love is like a perfect book..."My Lucid Dreams"... and like that book we should not skip to the end.... but we should treasure every little detail......every tiny sleepy moment....our sweet kiss will send erotic ripples through your heart and mind, leaving you breathless under ME.  It's those precious moments in the middle that you must hold onto, cherish and will remember forever.  These are the moments when you realize that you are weak for ME and you become forever MINE..... forever and always MINE.  It's what happens in between the beginning and the end that makes this OUR story so special when you become MY pet....forever My Pet..

This is the Most ROMANTIC, EROTIC and brainwashing HYPNOTICA --- what an experience!
PERSONAL NOTE (only visible to you)
You must
Log in / Sign up