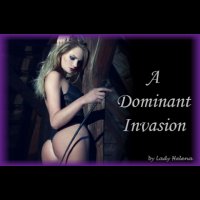 OFFICIAL SYNOPSIS
Lady Helena's "A Dominant Invasion"

A Dominant Invasion by Lady Helena--Shelle's slave girl

Description (50 minutes):

EXTREME HYPNOSIS and SUBMISSION

Slave boy, This is not for the faint of heart.. you MUST be ready to Learn what the DEEPEST submission to your Lady Helena means… I WILL PUSH your LIMITS with this File My slave. We are going to explore one of your Most secret fantasies.. But do not worry My Subject, I would Never tell.. hahaha. Cum play with Me and allow Me to take you Very Deep My Slave. You may want to Listen to My included Strap on Assignment to warm you up before listening My Obedient subject!
PERSONAL NOTE (only visible to you)
You must
Log in / Sign up