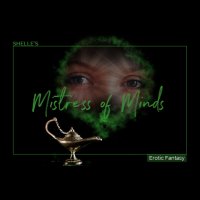 OFFICIAL SYNOPSIS
Level: Strong
Length: 45 minutes
Category: Erotic Fantasy-Brainwash-Mind Control

I am the Mistress of Minds.
This file will reinforce the power that I have over your mind.
It will entrap you and make your mind My domain.
You want your mind to belong to Me.
There is an overwhelming need that you have for Me to completely control your mind.
Gently drawn in until it is too late...there is no escape....no way out....your mind is Mine.
You will yearn to please and obey Me.
Completely subjected to My will and My commands.
I am the Mistress of your Mind.

Take off your clothes...get cozy and warm...and experience the passion of ME.

My use of Binaural Beats, 3 D and enticing music will leave you desperately deep in TRANCE.
PERSONAL NOTE (only visible to you)
You must
Log in / Sign up