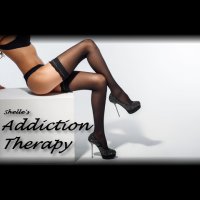 OFFICIAL SYNOPSIS
She is a SPECIALIST in the field of ADDICTION...

Session: 48 minutes
Category: Erotic Enslavement-Addiction Fetish

A little therapy never hurt anyone. Especially when your therapist is so sexy and always knows the needs of Her patient. She has insight and a direct connection to your subconscious mind.
you will find yourself easily transported to Her white leather couch...too deep to resist even if you tried.
She is a SPECIALIST in the field of addiction. So you can trust that She knows what She is doing.
When She gets done with you...your addiction will be perfected. Giggles! That is what She does.
Does it matter what the addiction is...does it matter that you will find yourself on your knees and at Her sexy NYLON covered legs. Does the idea of slippery silky sexy nylons against your c*ck and balls intrigue you.

Listen and feel the absolute control of your Domina as She leads you into EXTREME ecstasy and desire.

you will feel how a little REPETITION is the law of HYPNOSIS. The beginning of the INDUCTION, you will find familiar...this is by design.

Subliminal messages, binaural, and EXTREME INDUCTION.
PERSONAL NOTE (only visible to you)
You must
Log in / Sign up