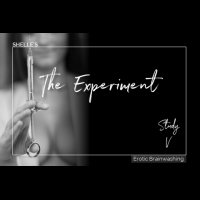 OFFICIAL SYNOPSIS
The FINAL Study in this Stage of the EXPERIMENT on the male brain.

BRAINWASHING HYPNOSIS --- Study 5, Intense and Climactic.

EFFECTS ON MALE PARTICIPANTS---LOSING CONTROL has never felt so good.
A mad scientist, yes indeed. ***GIGGLES***

Just how much hypnotic control can a young and beautiful female hypnotist wield by triggering the BSR (Brain stimulation reward) system in the male brain?  She conditioned the male participant by sending impulses to his brain stimulation reward system with implanted hypnotic triggers.  The hypnotic conditioning was designed to cause pleasure, arousal, CONFUSION and a strong addiction.  She conditioned him with triggers to make him crave.  To make him want.  To make serving Domina Shelle and feeding his addiction to Her his primary life goal.

OBEY MY every command in this experiment----EVEN if you are in CHASTITY---release if you are commanded.  This is IMPORTANT!!!

Study RESULTS of test subjects to be REPORTED in upcoming Blog.

Do NOT drive after listening to this file.
PERSONAL NOTE (only visible to you)
You must
Log in / Sign up