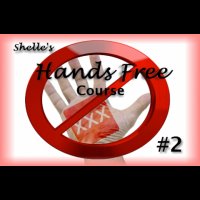 OFFICIAL SYNOPSIS
Shelle's HFO Training ... Session 2

Length: 29 minutes
Category: Hands Free-Mind Control-Brainwash

HANDS-FREE Orgasm Training - Session 2

Having a HAND FREE Orgasm can be mind-blowing, mysterious, lengthy, and elusive...now c*m let Domina play with the G-Spot inside your lil mind. Isn't that Hot, don't you agree?

Well you are going to LOVE this...These are some of the deepest HYPNOTIC TRANCES that I have created for you. Can you imagine C*MMING on command...a building up of arousal until your mind and body just give up and EXPLODE in a full body orgasm...an explosion so erotic, so heart pumping that you will want to do it over and over again...Similar to waking up just after having a WET DREAM.

DON'T miss this mind blowing, POWERFUL AND EROTIC training...learn about giving up complete control...feeling arousal completely taking over your mind and body. Having your Domina's words TRIGGER your BODY into OBEDIENT orgasm.

The full TRAINING will be 5 sessions in total. Each one MORE powerful, each one bringing you closer to the ULTIMATE EXPERIENCE of a HANDS FREE Orgasm.
PERSONAL NOTE (only visible to you)
You must
Log in / Sign up