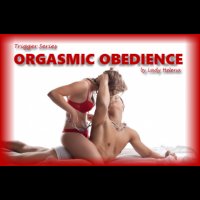 OFFICIAL SYNOPSIS
Lady Helena's "Orgasmic Obedience"

Orgasmic Obedience by Lady Helena--Shelle's slave girl

Description (40 minutes):

My darling subject, in this pleasure filled file I implant a most deliciously wicked trigger...which you will absolutely love. This is the first file of series of numerous triggers which I will implant into your Excited little mind. This file will drop you DEEP into my erotic control as I touch your most animalistic needs. My voice will have you HARD, LEAKING and helpless as I bring you to the bliss of true submission found only by my words.

My submissive toy, can you imagine ultimately releasing on command like a good little inferior animal. Given time and repetitive listening this file will implant such a trigger. You can't IMAGINE how much fun it will be for me to control you in such a way. The thought of you helplessly responding to my command, as you squirt within moments of my command in the future. How much you will yearn for my words, how HARD you will become as you automatically start STROKING with My Command. The pleasure combined with the sexual submission you will experience as you Helplessly EDGE to the point of no return and then squirt all over yourself. hahaha

I know you want this my obedient subject! I know you need this level of control! Oh you can't resist your place as my helpless squirter and listen to my Orgasmic Obedience.

Note: In order for this training file to touch your animal mind you will need to listen and obey the instructions within the file at least once a day for a minimum of 21 days (PS you might wish to acquire some lubricant).
PERSONAL NOTE (only visible to you)
You must
Log in / Sign up