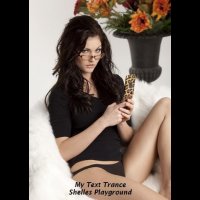 OFFICIAL SYNOPSIS
Level: Moderate
Length: 20 minutes
Category: Shelle's Playground-Mind Control

This is the initiation file to Shelle's playground, to show you how much closer we are about to become-giggle.  You need to listen to this file before proceeding into my playground.  This file will work best for those who have already listened to a number of my files.

***First Playground trigger S INCLUDED FREE with this Offer***

See the category for more details about Shelle's playground.
PERSONAL NOTE (only visible to you)
You must
Log in / Sign up