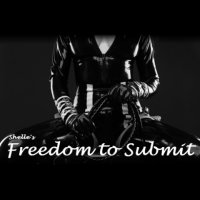 OFFICIAL SYNOPSIS
I will take you into an amazing deep trance and FREE you...

Length: 50 minutes x 2 versions

Have you ever wondered what it would be like to be so totally and utterly liberated that you are free to openly express the full extent of your submissive dreams and desires? I know you have and I suspect you have imagined the bewildering possibilities of being the real submissive you, savoring the pure joy of subservience and basking in the bliss of selflessly giving to another, one worthy of your complete adoration, trust and respect - Me, Domina Shelle, your one TRUE Owner.

Well, My baby, in this session I offer an insight into the incredible experience of letting go completely, absolute FREEDOM to SUBMIT with no pesky thoughts or an over protective consciousness to deny you the addictive pleasure you clearly deserve. I will show you what it means to feel honored and privileged to serve, mindlessly accepting your rightful place at My feet with an obsessive craving to obey Me unquestioningly. This is pure unadulterated submission and it's a sensation that once touched will never be forgotten.

But be warned, My puppy, this type of freedom CUMS at a price! To fully embrace your desires you need to acknowledge to yourself that hypnotic enslavement to Me is your future, and the sooner you learn to accept this fact the sooner you can experience the immeasurable pleasure of being free to submit. It's just a matter of time, My slave, and thankfully for you I'm here to train and guide you on this wonderful journey into obsession and addiction. (giggles)

***This session has subliminal messages that will be picked up ONLY by your subconscious mind.
PERSONAL NOTE (only visible to you)
You must
Log in / Sign up