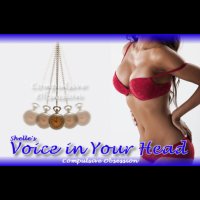 OFFICIAL SYNOPSIS
As you feel the compulsion take over, feel My voice in your head...

Length: 59 minutes

Voice in your Head

A masterpiece of subjugation, indoctrination, submission and control. This confusional style of mind manipulation will take you over the edge. This file will take you down so deeply it might even be a little scary... for you anyway *giggles*

My words are affirmations in your mind, accepting that you are already subjugated and My statements simply clarify your own reality.

Let go and listen now....this mp3 session is a compulsive obsession...you can never resist.
Let the bliss fill your mind and body as I drill deeper and deeper into your subconscious mind.

Like a parasite latches onto its host, My voice will do the same to your mind. Using it for MY benefit, changing your behavior and taking absolute control.

This is a perfect follow-up to Breasts in your Head.
PERSONAL NOTE (only visible to you)
You must
Log in / Sign up