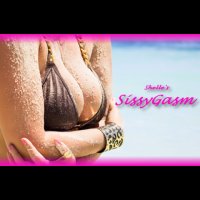 OFFICIAL SYNOPSIS
Sissy SEXY, SULTRY, SEDUCTION on My erotic BEACH...

Category: SISSY-Brainwashing-Mind Control
Length: 14+ minutes

SissyGasm is the perfect STAND ALONE EXPERIENCE, or a perfect companion session for My Rebecca Series in addition to some of My other related Sissy material.

SEXY, SOOTHING, SULTRY...and oh, so wet. Come with Me, My sweet, lay back and enjoy the softening waves Of My sexy Exotic beach.

My sissy, feel the full effects that My voice and My sissy training have on you.

This mp3 is desired to create and strengthen the sexual linkage between your sissy clit and nipples. Training will require you listen to the mp3 numerous times in order to truly create the connection, although... don't worry, you will enjoy every minute of it.

So, put on your sexy panties and experience a SissyGasm.
PERSONAL NOTE (only visible to you)
You must
Log in / Sign up