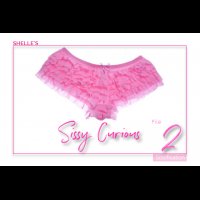 OFFICIAL SYNOPSIS
Level: Mild
Length: 24 minutes
Category: Sissy Curious

This file will open up your mind and release more sissy feelings.  So SEXY in pretty pink silk....you will love this most erotic sissy seduction.  Please listen to the first file "Sissy curious", before listening to this file.
Slip and slide into those sexy pink panties ..you are in for a ride.
PERSONAL NOTE (only visible to you)
You must
Log in / Sign up