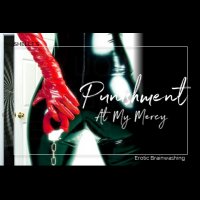 OFFICIAL SYNOPSIS
Level: Powerful
Length: 36 minutes
Category: Brainwash-Mind Control

More mind play.  I just love playing with your mind.  Feel the haunting of your evil Princess. ***Laughing***

My beautiful slave girls dressed in shiny latex will lead you by the leash to My BRAINWASHING room.  Strapping you to the chair, with NO escape.  My voice surrounds you, Hypnotizing you.  My control over you stronger than you ever imagined it could be.

I will increase the pleasure and effects of My Voice...and teach you what true PUNISHMENT feels like.  The line between Pleasure and pain is well DEFINED.  A very EROTIC and Hypnotically emotional EXPERIENCE!

Princess/Domina at her most WICKED.

The attached spiral is to be used on the 2nd listen, if you like visual aids.
PERSONAL NOTE (only visible to you)
You must
Log in / Sign up