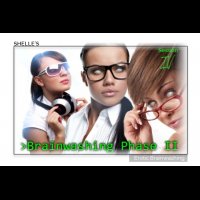 OFFICIAL SYNOPSIS
Level: STRONG
Length: 34 minutes
Category: BRAINWASH-Erotic

Brainwashed Phase II - Step 4 - Dominated

A TREMENDOUSLY---EROTIC BRAINWASHING EXPERIENCE.

Listening is NOT an option!!!

This HYPNOTIC session will make you say---She is my owner---She is the one that controls me---I was born to serve Her---I am OBEDIENT and SUBMISSIVE to Her only.

The VERY first SEXY NURTURING words of this file are coercing you into stroking for Me...Yes My control is immediate and will not be underestimated.

You will see that My words are POWERFUL and I have definite control inside your mind--- just what you want.  I am in control...you are BRAINWASHED.

Make sure you listen to all of My PHASE 1 and PHASE 2 BRAINWASHED files---DO NOT MISS a session.  I always know what you need.
PERSONAL NOTE (only visible to you)
You must
Log in / Sign up