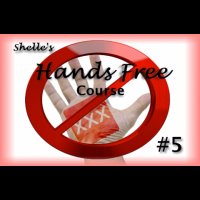 | | |
| --- | --- |
| | Audio |
OFFICIAL SYNOPSIS
Shelle's HFO Training ... Session 5 - Climax

Length: 28 minutes
Category: HANDS FREE-Mind Control-Brainwash

My pet, let your Domina's words stroke your enslaved mind. As My voice slowly f*cks your swollen and aching c*ck. Listen to My sweet southern voice as waves of pleasure flow through your body. Accept your future of mind-body draining hands FREE orgasm. I am HYPNOSIS, I am inside you...Inside your mind. you are such a good subject...all you have to do is listen and fall.

My words replace your hands, My words will stroke your mind...I will f*ck your willing mind. Pleasure will consume you as you open up. The heat will flow through you like a raging fire...swelling your c*ck as you are swallowed by My wet, slippery tightness. C*m, My pet, and listen to this mind blowing experience.

Don't miss out on this SEXY SEDUCTIVE mind trip.

IMPORTANT: For best results listen to and OBEY Sessions 1-4 before listening to this Final Session.
PERSONAL NOTE (only visible to you)
You must
Log in / Sign up