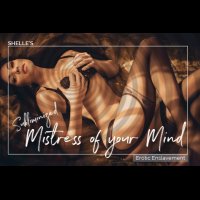 OFFICIAL SYNOPSIS
There's no escaping My addictive subversive influence...

Session: 27+ minutes

My deeply conditioned and programmed subject, I am the Mistress of your Mind and no one can make you feel the way I do! My hot, wet, whispered words enraptures the submissive you, allowing Me to send you effortlessly into deep forgetful sleep, your conscious mind relaxing into nothingness, blank and empty, open and suggestible, ready for another MIND FUCK by your decadently devious Domina. (giggles)

Hmmmm, I do love seeing My HARD and HORNY pet so naked and vulnerable to My control, slipping so easily and deeply for Me, your THROBBING c*ck betraying your body's undeniable surrender to the bliss of My sensual domination. Of course, this reflexive response is intentional because it leaves you powerless, highly suggestible; your subconscious mind open to Me, ready and willing to follow all My subliminal instructions as if they were your own ideas.

Isn't that so wicked and sexy, knowing you are incapable of stopping Me from f*cking with your mind, having no conscious recollection of what I've done to you and why? In this session you will surrender to My SUBLIMINAL PROGRAMMING believing this is what you truly crave and, as you stroke for Me, I will happily sate this desire, further subjugating the submissive you embracing that I'm a permanent part of who you are now!

My subject, this is very REAL and there's no escaping My addictive subversive influence, just an ever GROWING admiration and craving to lose more control to My deep hypnotic conditioning. Prepare yourself to be fundamentally manipulated and brainwashed.

Session includes: Subliminal Programming, Binaural Beats, Mind Manipulation, Hypnotic Amnesia, and no WAKE command.
PERSONAL NOTE (only visible to you)
You must
Log in / Sign up