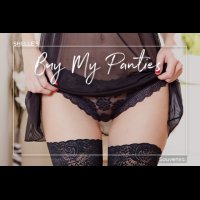 OFFICIAL SYNOPSIS
Buy My Panties and Addicted To Panties MP3

Have a SPECIAL part of Me...Breathe in my scent and become MORE enslaved to ME!

Once you have purchased my panties, email Me for DETAILS and a safe place for me to send them to you. Packaged discreetly. For extra WORN panties contact Me for details.

This purchase includes My 18 min Addicted To Panties MP3. Listen to the TEASER ...
PERSONAL NOTE (only visible to you)
You must
Log in / Sign up