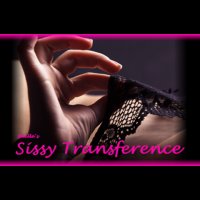 OFFICIAL SYNOPSIS
you will find that listening to any of My files will further your SISSY enslavement...

Length: 17 minutes

My enslaved sissy pet, can you imagine having your Domina Shelle change the definition of words in your bimbo brain. What would you do if I made you believe that the color blue was really pink. Giggles

your Domina has created this session to assist you on your journey to becoming my perfect sissy gurl. Once My powerful suggestions are absorbed in your HORNY aroused mind, you will find listening to any of My files will further your sissy enslavement. Yummy, the thought of your wet sissy cl*t makes your Domina so excited.

So, My sissy will listen, listen again and again. As My sweet voice takes you deep, changing your life and desires, to what I know you desire to be.

Go strip, My good gurl, put on your sexy panties/ outfit and lay back and listen to Sissy Transference.

Note: To experience the full and lasting effect Listen to the file a minimum of twice a day for 14 to 21 consecutive days.
PERSONAL NOTE (only visible to you)
You must
Log in / Sign up