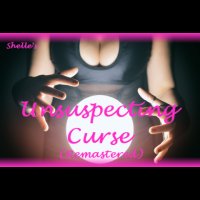 OFFICIAL SYNOPSIS
Powerful REMASTERED version of "Unsuspecting Curse".

Session: 41 minutes
Level: POWERFUL
Category: Brainwashing-Mind Control

REMASTERED -- MUST LISTEN -- Unsuspecting CURSE!

An erection, so much swelling...NEW NAUGHTY and so f*cking hot NEW FETISH. I will take you into a deep PENETRATING TRANCE and shock you with A TWIST that you would NEVER have dreamed of. I have you, a sweet CURSE and soooo unsuspecting, one that will stay close to you...one you will not forget. A HAUNTING effect! I love f*cking with your mind...teasing and taunting you into MINDLESS SEDUCTION. Accept My CURSE....and Listen now---you already know that you can NOT resist.

Includes Subliminal messages and Binaurals.

RE-Listen or LISTEN to Black Magic Woman before listening to this file.
PERSONAL NOTE (only visible to you)
You must
Log in / Sign up