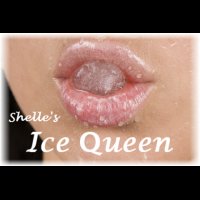 OFFICIAL SYNOPSIS
Length: 53 minutes
Category: Financial Domme-Mind Control-Erotic

A deep, HYPNOTIC induction---into blankness and unawareness---A little NAUGHTY, ICY, and a bit BITCHY seduction that no man can resist.  She is after your MIND!

This file is edged toward Financial Domination----Created ONLY for those with this fetish.

She's cold as ice...but
you're willing to sacrifice
you take only Her advice
Someday you'll pay the price

It happens all the time...you always give in to My love
You're closing the door...
you leave it all behind...enter this world of Mine.

I'm cold as ice...I must break you down....
Only I am worth the price.  I'm your ONLY vice.
Welcome to PARADISE-----

Is she really COLD as ICE---could your Domina be an--- Ice Queen***GIGGLES***

Or, is this another TRICK up Her sexy sleeve?

Does that sound a bit familiar!!!

Amazing Binaural effects--taking your MIND into deeper depths of hypnotic control.
PERSONAL NOTE (only visible to you)
You must
Log in / Sign up