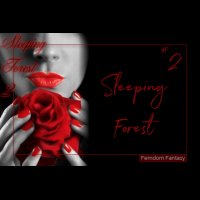 OFFICIAL SYNOPSIS
Level: Sneaky to Hard
Length: 39+ minutes
Category: Brainwash-Mind Control-Seduction

The Descent

This is the second mind trip into my SLEEPING FOREST.
What will she do to you?  Where will I take you this time?  How deep will you fall?
Come with me once again on my twisting tale of desire and longing, one that will have you panting for more.  Feel me slipping softly and much deeper into your mind this time.  Slowly building up, but many times more powerful, the compound BRAINWASHING is delicious and irresistible.
Each file will build on the one before, multiplying the effects, building on your desire to be with me, controlled by ME.
The depths you will reach will surprise you, you will not realize what is happening, or how it happens, just following the words and the tale, drifting, smoothly and effortlessly.
Immerse yourself fully in this mysterious and winding journey, allow the desire and the helplessness to bring you to me, slowly, softly-- all in good time my pet---giggles.
This series will give you a first glimpse of how my work (my control) is developing and broadening, as our relationship moves ever closer and deeper, mmmmmmm.

A very sexy and sensual TEASE.  A mind SEDUCTION that leaves you CRAVING more!

Be sure to listen to Part 1 FIRST, as this is a progressive series.
PERSONAL NOTE (only visible to you)
You must
Log in / Sign up