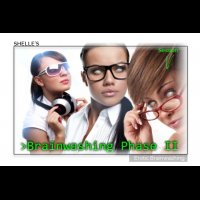 OFFICIAL SYNOPSIS
Level: Hard
Length: 28 minutes
Category: BRAINWASH-Erotic

Brainwashed Phase II-Step 5--Accept and OBEY

Just another level of INTENSE BRAINWASHING.  Where I continue to break down your thought process and replace it with Mine...I will continue to do this until I have all control of you.  It is compulsory that you purchase and listen to this file.

Yes, I have just explained that I will break you down and rebuild you, in order to take complete control.  Yet, you can't wait to listen to this NEXT level of My BRAINWASHING files...hell, you don't even care that I will NOT tell you the details of this file...Only that I will invade your brain even deeper now, and that you will accept and OBEY.

Brainwashing is such an invasive form of influence, it requires some isolation and dependency of the subject.  This is why your time with Me is so very IMPORTANT and necessary....just another reason to ACCEPT, OBEY and listen now.

Listen with your headphones on --- My BRAINWASHING files build on each other.  Listen over and over and over...fall deeper and deeper.
PERSONAL NOTE (only visible to you)
You must
Log in / Sign up