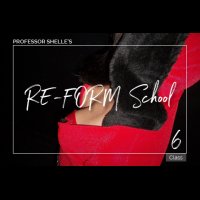 OFFICIAL SYNOPSIS
The 6th class of Shelle's ReForm School for Obedient Boys...

Session Length: 49 minutes

My subject, it's time to continue your studies into being the best submissive you can be for Me, Your Domina and Princess. Class #6 at Professor Shelle's ReForm School for Obedient boys, and sissies, will focus on our D/s relationship, specifically what I (the Dominant) expect from you (the submissive), and what I offer you in return.

As most of you already know I am not a traditional Domme since I care about your growth as a submissive. From our interactions through email, messaging, talk and even through social media, I project the real Me and view Myself not only as your Dominant but also as your confidante, your guide and your trainer. As your Domina, My goal is to help you be the best slave you can be for Me and, with encouragement and support, to become a better person in the process showcasing your true submissive self.

My sessions and assignments are an opportunity to explore unique fetishes and desires, to feed addictions and even to push limits and expectations. By emotionally binding you close to Me I can influence you in a myriad of ways. you may already sense that, deep down, I am a permanent part of you now and that because I'm your obsession, your addiction, and your safe harbor on this journey of self discovery into submission and enslavement.

And in return what does your Domina expect from you, My subject? Well, with a little sexy persuasion and intimate instruction I believe I can convince the you to embrace the many virtues of submissive sacrifice and selflessness for Me, where obedience to Me is your pleasure. With an open mind, a joyful heart and a hard c*ck - (Giggles) - anything is possible and, TRUST Me, by the time these classes end you will realize the full extent of My dominion of you!

Don't forget to download your ASSIGNMENT.
PERSONAL NOTE (only visible to you)
You must
Log in / Sign up