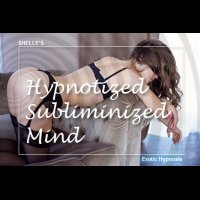 OFFICIAL SYNOPSIS
Hypnotized Lustful Persuasion---Let's get CONDITIONED

Length: 37 minutes

Time to get SUBLIMINIZED....time for more hypnotic conditioning. Time to relinquish what little free will you have left to My irresistible sensual authority, the Mistress of your mind. you are so easy to hypnotize now, My puppy, and I do love to play in your subconscious, influencing your thoughts and reinforcing ideas that deepen My hypnotic dominion and enslavement of you. There is no end to this subjugation, just the never ending thrill of surrendering more and more of yourself to Me. Only I can give you the pleasure of true SUBMISSION.

With this session the intensity of these submissive feelings will GROW substantially stronger until you are truly obsessed with the pleasure of submission to Me. That's what this masterpiece of subliminal programming and reinforced suggestions will do to your defenseless mind until, inevitably, you succumb to the bliss and overwhelming pleasure of My authority and inescapable dominion of you.

But, do not worry, My baby, you know you can ALWAYS trust Me. I know you and, more importantly, I know what you NEED! Through your obedience and servitude to Me I will grant you the gift of extreme pleasure through submission. This is the domination and authority you crave and I'm very confidant that, with repeated conditioning using this session, My hypnotic persuasion will inexorably compel you to see, and feel, things My way... (Giggles)

So, prepare to become mindless and blank, horny and aroused, as I lull you into a deep hypnotic slumber, so deep that I will be your everything...

This session is your COMPULSION.
PERSONAL NOTE (only visible to you)
You must
Log in / Sign up