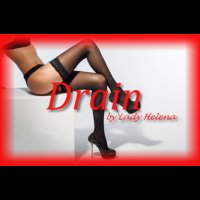 OFFICIAL SYNOPSIS
"Drain" by Lady Helena--Shelle's slave girl

Category: Lady Helena
Length: 39 minutes

My servant, have you ever had a bottle of lotion or a condiment that was Almost empty, So you Beat it and squeeze it until you get the very last Drop? I know you have... you can get so frustrated banging away trying to get that last Drop.... Now My subject, Imagine you are the bottle, My bottle, and I desperately Want what's inside! Imagine your Lady Helena taking Every Drop, Draining you, Making you Ooze For Me until I am satisfied! I know you Crave My satisfaction and you Know that I will Only Bring you Pleasure when I allow you to squirt For Me Over and Over again! Listen and Obey little slave boy...I'll have your brain and that c*ck DRAINED before you know what has happened.
PERSONAL NOTE (only visible to you)
You must
Log in / Sign up