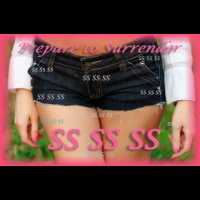 OFFICIAL SYNOPSIS
Sissy play pen - Surrender SS SS SS

Category: Shelle's Playground-Sissy play pen
Level: Extreme
Length: 18+ minutes

Calling all sissys! ~~Giggles~~ Actually NOT just sissys will love to obey this one.
Completely BLIND again, as to what I may ask of you. That's real TRUST. So here is yet another SURPRISE on My Playground.
Take a few minutes to listen as I push yet another TRIGGER into your mind. Then prepare to OBEY My simple COMMANDS.
This is so much SEXY fun for Me. I do hope that you are loving the lessons in OBEDIENCE.

Be ADVISED, NAUGHTY!!!!
PERSONAL NOTE (only visible to you)
You must
Log in / Sign up