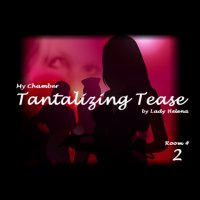 Lady H - My Chamber - Room 2 - Tantalizing Tease

by

Shelle Rivers

Audio
OFFICIAL SYNOPSIS
Lady Helena's "My Chamber--Room 2 - Tantalizing Tease"

My Chamber--Room 2 - Tantalizing Tease by Lady Helena--Shelle's slave girl

Description (62 minutes):

Cum my HORNY little slave boy, it's time to return to My Fantasy Chamber. This is room TWO in the series, which we will explore just how much of a "man" you are. As we continue your submissive education and transformation into my HORNY enslaved boy toy. I know how much you desire to submit and accept your place as a slave to your Dominatrix. I know how much you yearn and desire to be erotically tormented, naked, mindless and on the edge of orgasmic bliss.

In this training file, your Lady will introduce you to Her sexy handmaidens, while testing your stamina and devotion. Will you be able to endure the full hour? How long can you withstand my sensual erotic words as I stroke you deeper and deeper into my control? My every word teasing your desires, thoughts and cravings into My perfect submissive.

This file is the third session in My Chamber series. In order to achieve the best experience make sure you have listened to the first two files, My Chamber--Introduction and My Chamber--Room 1 - Pleasure Shock. Once you have absorbed these lessons then you will listen to 'My Chamber--Room 2 - Tantalizing TEASE'.

This session may push a few of your limits, but I expect to give you one of the most erotic submissive experiences of your life. Ensure you are naked and an alone then start listening, My slave boy.
PERSONAL NOTE (only visible to you)
You must
Log in / Sign up