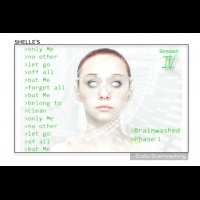 OFFICIAL SYNOPSIS
Level: Progressive-Strong
Length: 14 minutes
Category: Brainwash

Program 4 - Pictures

EXTREME BRAINWASHING---Spellbound by My beauty--you are brainwashed....I am brainwashing you.....you need to be brainwashed by Me.
You want more, you need more.  That need is growing out of control.  Don't fight it, give in!  It feels so good to have Me play with your mind.  So sexy, so erotic to LOSE all control to ME!  With each session I take more and more hold of your brain.  Dare to resist coming back to ME over and over again, addicted to Me.

This program is NOT for beginners!  For the most POWERFUL effects, listen to Program-1 before any of the additional sessions.  Be warned, the sessions become progressively stronger with each program.

Lay back, let MY brainwashing program install....
PERSONAL NOTE (only visible to you)
You must
Log in / Sign up