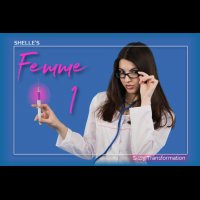 OFFICIAL SYNOPSIS
Level: STRONG
Length: 22+ minutes
Category: Femme-Sissy

Your SAFE and PRIVATE journey to your softer more feminine side will begin with instruction in accepting and embracing your feelings of femme.  The chemicals that I am about to introduce into your body will bring you peace of mind as the inevitable changes to a sexier inner you comes to the surface.  In no time at all you will be My sexy sissy slut, with NO regrets.  Play with Me, trust Me...Be My sissy pet.

This is just the beginning, each visit to My office will bring you closer to an amazing EXPERIENCE of self freedom, and will leave you feeling sexy, soft, WET and slutty. ***GIGGLES***

SECRETS are best when SHARED with someone you LOVE!!!

This is for sissy---FEMME transformation---Lay back after a nice hot bath and relax for your Nurse.
PERSONAL NOTE (only visible to you)
You must
Log in / Sign up