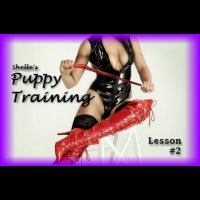 OFFICIAL SYNOPSIS
Part 2 of My slave Puppy Training...

Length: 19 minutes
Category: Enslavement
Level: Playful and Hypnotic

My mindless obedient puppy what lesson shall you learn next? Maybe your Domina will have you naked, collared as W/we practice your sitting and staying or maybe I will have My puppy begging at My feet. Whether you will find you self-begging or something else I assure you, My horny lil puppy slave, that you will enjoy your experience at My feet.

This is a continuation of your puppy and obedience training. As I transform you back into My human puppy slave. Accept your place as My obedient pet, accept your place as My well-trained little puppy. Show your Princess your completed obedience to My instructions and learn the rewards of loyalty and devotion of My puppy dog.

C*m listen to your Domina's Puppy Training 2. The file is best experienced after accepting your Domina's Puppy Training 1. So, My horny puppy, accept your place at My feet, naked, collared and ready to serve your Princess/Domina.
PERSONAL NOTE (only visible to you)
You must
Log in / Sign up