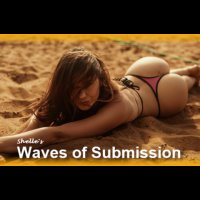 OFFICIAL SYNOPSIS
Fall deep into My erotic world of SULTRY enslavement...

Length: 47 minutes + ASMR-Loop file

I'm going to HYPNOTIZE you tonight, My helpless Victim. So be careful as you never know what's lurking in those twisted shadows.

Come and experience an evening at your Domina's beach house as W/we explore your needs. Lay back on My white leather couch, watch My crystal as it spins around and around, having you fall deep into My erotic world of SULTRY enslavement. Watch as it turns and sparkles in the evening light. Submitting, obeying and yearning to return to where you longed to be. I will continue the enslavement of your open mind.

This erotically charged file will have you deep in submissive bliss...My sweet waves of words bring you deeper and deeper under My control. The more you submit the more control I have over you, as My whispers train you, TRUST and fall...down, down, down you go. your Arousal will overcum you as the whispers from My sexy lips slip deep into you.
Take a vacation from your life and experience true relaxation at My house of enslavement.

This session is filled with effects that will truly wash over you and take your mind into a whole other world...The ASMR effects will take you beyond hypnosis, into the deepest depths of trance. Also with confusion, binaural and subliminal effects.

Don't miss out on another SHOW PIECE of your Domina's...Re-mastered from one of My very beginning hypno sessions....(you will feel and recognize remnants of "The Crystal").
PERSONAL NOTE (only visible to you)
You must
Log in / Sign up