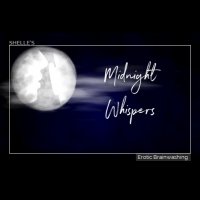 OFFICIAL SYNOPSIS
Level: SEXY--HYPNOTIC
Length: 22 minutes
Category: LUSTFUL Mind CONTROL

Slip into bed, I'll slip in next to you.  Let Me whisper sweet HYPNOTIC words into your brain.  We will be so close, you can close your eyes and almost feel Me with you.  My warm soft skin touching you in ways you have never been touched by another Woman.  Yes, we are closer now than we have ever been.  This is one session that you will hope never ends.

Mmmmm isn't this a nice night, My pet?  Awww, you look so nervous?  Why so nervous?  Is it My closeness to you?  You look so weak and helpless.  It's ok.  Feel My breath as I whisper in your ear.  My whispers make you so horny and weak.  That's how I always want you, My pet.  Horny and weak for Me....lost in Me.  Enveloped by My aura.  Drowning in My softness.  My whispers will become a need for you.  A necessity.

My soft silky whispers slip and slide deep inside every crevice of your soul.  You will be helpless to stop this.

My whispers stroking your brain with My will.  Your mind even weaker for Me.  Always in need of more training.  I so easily pull the lust from your soul and bind you to My will.  Listening to this file, a doorway into your complete servitude.
My silky suggestions wrap around your c**k like a python.  You cannot escape My control.  Your weakness strengthens Me and My whispers will keep you en-spelled forever.
PERSONAL NOTE (only visible to you)
You must
Log in / Sign up