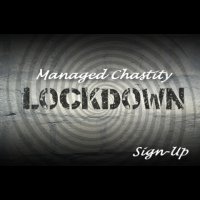 OFFICIAL SYNOPSIS
Sign Up for Managed Chastity LOCKDOWN ...

SIGN UP NOW --- Get PREPARED for Chastity LOCKDOWN. Don't miss out. This is going to be a wild HYPNOTIC ride.
SIGN UP INCLUDES a 3 day assignment that will prepare you for LOCKDOWN. Plus 3 very SEXY PICTURES of your Domina, exciting enough to give you an orgasm by themselves.

READ and follow instructions below: (Sign-up does not include the additional sessions needed for your chastity journey, they are available at SPECIAL prices).

Then, begins Chastity LOCKDOWN. If this brings a big smile to your face and a big bulge in your pants then SIGN UP for 26 DAYS of hard and horny Chastity and a lot of TEMPTATION from that little devilish voice that whispers in your other ear.

I also have weekly assignments. you are expected to be ready to SIGN UP for AT LEAST My First week option. Remember that this Sign-Up gets you the first audio assignment---MANAGED ORGASM...so NO need to buy it separately.

If you don't think I can keep you hard and aroused for 26 days without cumming, just try Me..... your excitement continues either way.

Once you have signed up, you MUST EMAIL Me with either 26 Days or 1 week in the subject line. This informs Me of how long you are willing to be chaste for Me.
PERSONAL NOTE (only visible to you)
You must
Log in / Sign up