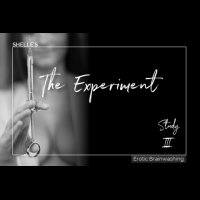 OFFICIAL SYNOPSIS
PSYCHOLOGICAL EXPERIMENT TESTING - STUDY III

BRAINWASHING HYPNOSIS

EFFECTS ON MALE PARTICIPANTS---How much control do I really have over your mind.

Scrambling your mind---leaving you THOUGHTLESS---taking you deeper than you have ever gone---and just think you probably won't remember a thing.  Study 3, will leave you in a state of CONFUSION, AROUSED and completely in My control.

Don't miss your chance to be a part of this Controlled experiment...it will provide insight into cause-and-effect by demonstrating what outcome occurs when a particular factor is manipulated.

Each study more POWERFUL---the effects overwhelming.

There is a total of 5 Studies----each must be listened to at least 3 times.

FREE EXPERIMENT LOOP file included.

Prepare for a mind F**K like you have never experienced...

If you ever want a file without audio effects---just ask.  I'll be happy to send it.
PERSONAL NOTE (only visible to you)
You must
Log in / Sign up