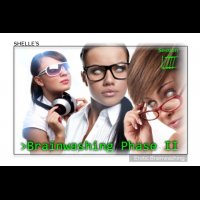 OFFICIAL SYNOPSIS
Level: Powerful
Length: 26 minutes
Category: Brainwash

Brainwashed Phase II - Step 8 - NEXT TIME

It is MANDATORY to LISTEN to this file---Each time I BRAINWASH you I manipulate your MIND and body....I take more and more CONTROL.  This is what you want.  This is why you will LISTEN NOW without THOUGHT and without QUESTION.  Just OBEY!!!!

Yes it's time for your next step---Each step stronger than the previous.  You must listen and OBEY, without any indication of the contents....yes, without knowing what I will do to you right now.  Ohhhh, so arousing, isn't it.
Being MIND F**Ked by me is becoming more and more erotic, don't you think.

Put on your headphones and fall into My world---submit---SURRENDER---OBEY.
PERSONAL NOTE (only visible to you)
You must
Log in / Sign up