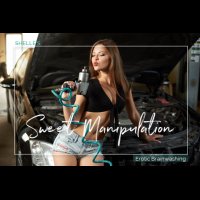 OFFICIAL SYNOPSIS
The TRUTH of My control and My hypnotic brainwashing...

Session Length: 46 minutes

My puppy, I know you try so HARD to think of Me every day, listening to My sessions as time permits, and fantasizing about Me when you get those occasional erotic urges to submit and surrender to a dominant deviant Woman with the power to manipulate your submissive mind.

I also appreciate that sometimes My pets are so TIRED from the day that when you do listen to My sessions, to RELAX or escape into My world of erotic submissive bliss, you find yourself increasingly falling asleep, waking afterwards refreshed and aroused but secretly wondering if My sessions are as powerful as you once believed. I understand how and why this doubt creeps into your mind so I am here to help you realize the TRUTH of My control and why My hypnotic brainwashing, and its ability to influence your daily life, is both substantive and REAL!

In this session I will use My sweet manipulation to demonstrate what a skilled hypnotist can do with a prepared and, possibly, skeptical subject. I know you want to TRUST in Me and with your support I will exercise to help to maximize your potential by promoting the benefits of a full night of RESTFUL sleep. Each day you will awake invigorated, energized, with increased incentive to please your Domina, supporting Me in all My endeavors, and viewing Me more and more as a positive (sexy) role model in your life. (Giggles)

Yes, My horny and aroused pet, I am here to take care of you and with My expert guidance you will FORGET about your worries and ACCEPT that obedience to Me is your one true pleasure, and importantly Domina knows best...
PERSONAL NOTE (only visible to you)
You must
Log in / Sign up