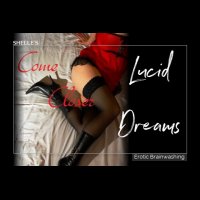 OFFICIAL SYNOPSIS
Level: Powerful
Length: 40 minutes
Category: Brainwash-Love and Addiction

PURE HYPNOTIC BLISS---BRAINWASHED---Obsessing and ADDICTING.

The sexiest of all Lucid Dreams----an experience never to be forgotten.  Come CLOSER, slide deep inside.
The realization of what was happening sinking in as I take you deeper.  My sweet soft sexy words taking you to where I want you to go.
Feel your pants straining against your growing arousal.  Your head against My chest, feel My every heartbeat.  The most intimate touches of your Girlfriend, She knows your every need and desire.  Her touch will set you on fire.
My control possessing you, you will never even know when it happens.  You will helplessly give in to My seduction, I will brainwash you, control your mind and there is nothing you can do to stop it.

Come fall into My arms, love Me...climax with Me.  Be Mine, never leave Me.
PERSONAL NOTE (only visible to you)
You must
Log in / Sign up