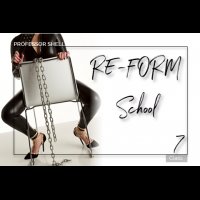 OFFICIAL SYNOPSIS
The 7th class of Shelle's ReForm School for Obedient Boys...

Session: 49 minutes

My student slave, this is the SEVENTH Class of 15 at Shelle's ReForm School for Boys. your Professor, your Domina, Shelle will instruct you on why you come to Me, with this month's topic, CONTROL. As a submissive you need the right Mistress to express your submission and need to obey. I am the Perfect Domina who seduces you and deepens your desires, needs and fantasies to submit to My Control and Domination which is a most essential part that bonds O/our Dom-slave relationship. This is about your need and desire for My Control over more and more of your life, and My pleasure in exerting My Control.

Soon you will understand just how much power I have over you...and you will feel yourself at My disposal to exercise My control over you and the many ways you mindlessly respond with your increasing need Control and Domination. These classes are designed to properly train you in perfect submission to be the best slave you can be for your Domina. I help you to fully understand how your needs and pleasure naturally lead you to an overwhelming desire to serve and please Me. I NOW raise My expectations of you, My obedient slave and I give you many opportunities and rewards to express yourself to your Domina in your unique way. I am your PLEASURE...I provide so many rewards of intensified pleasure and bring you true happiness, for your expressions of submission, obedience, love and devotion as servitude and enslavement follow into O/our Perfect relationship.

Don't forget to download your homework and a NEVER before shared picture of your Domina.
PERSONAL NOTE (only visible to you)
You must
Log in / Sign up