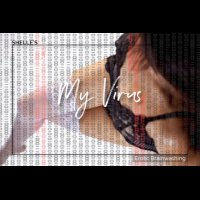 OFFICIAL SYNOPSIS
Level: POWER-FULL
Length: 57 minutes
Category: Brainwash—mind control—TOTAL MIND F**K

DOWNLOAD NOW for ACTIVATION.

Will you do something for Me.....would you allow Me to download My HIGHLY effective VIRUS into your brain...awwww.....goodboy....I knew you would.  I am so excited to have created this viral infection, now I want to EXPLORE your brain and see just how effective it will be.

NOTE---This virus will be felt and heard INDEFINITELY throughout your mind....this virus will eradicate any thoughts that you have of escape.  Don't mind the buzzing effects........this is NORMAL.  So, come on, let Me play with your BRAIN. ***GIGGLES***

Just CLICK now---and prepare for one of My best MIND F**KS...

If you liked POINT OF IMPACT---you will LOVE this one.

VIRUS WILL CAUSE A MASSIVE ERUPTION.
PERSONAL NOTE (only visible to you)
You must
Log in / Sign up